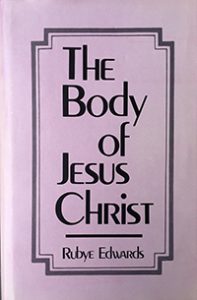 Author: Rubye Edwards
Publisher: Vantage Press
ISBN: 0-533-07990-X
No. of Pages: 302
Index: No
Table of Contents: Yes
Binding: Hard Cover
Last Update: 1988
Volume Discounts: Yes, call to inquire
Shipping Time: 2-5 Days
Price: $14.95
ABOUT THE BOOK
This work is a clear presentation of the Lord's presentation to the church. This work functions as a spiritual newsletter to believers in the Word. It shows foresight in various occurrences and changes that the world will experience. The work shares the Lord's focus and His messages that will help free believers from some church traditions, which are not of the Lord but, sometimes, only by man. This work looks at the history of man's church and aims to set straight the will of the Lord clearly to those who really want to be His servant.
ABOUT THE AUTHOR
Rubye Edwards is a native of Georgia. She is a product of the Great Depression. And in spite of the meager funds her family had, she graduated from high school and attended Reid's Business College where she acquired secretarial and bookkeeping skills graduating with honors. She moved to Washington, DC and garnered employment with the Dept. of State, having the distinct honor of serving in the U.S. Embassy in Tokyo, Japan.
When she returned to the United States, she moved to Chicago, IL and was an employee with the Dept. of Health, Education, and Welfare. Yet, it was in Chicago that her life was transformed into the life of the Lord. She broadened her faith by attending Moody Bible Institute. Ms. Edwards has been focused on increasing her knowledge and understanding of the Bible and being devoted in prayer ever since. And as she begins her 95th year on this earth, her devotion to learning, following, clarifying, and spreading the Word of the Lord continues to be strong.
Preview this book: