Dr. Fairy C. Hayes-Scott, Consultant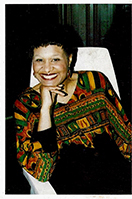 Major Area of Focus:
Writing
Punctuation
Word Choice
About My Consultancy Service
In my capacity as a grammar consultant, my goal is to help business owners and professionals, who speak English as a Second Language (ESL), develop confidence in their oral and writing skills.
ESL professionals should not experience any anxieties about their command of the English language when they represent their company or when striving to reach a certain goal in their career. This is why I am committed to serving ESL business owners and professionals.
Do you want to develop more self-confidence to approach potentially new clients?
Do you want to feel less anxiety when interacting with your customers or employees?
Do you want to build a strong clientele of native and non-native speakers of English?
If so, I can help you accomplish these goals. As a college English professor, I have helped hundreds of college students improve their grammatical, punctuation, and communication skills. As the owner of a traditional book publishing company and self-publishing book company, I have assisted authors enhance their writing and storytelling skills.
Learning Objectives
Although I offer customized consultation services, for each client, I plan to:
Send written English grammar exercises and review each exercise with you
Explain the use of punctuation and provide written exercises on the use of punctuation
Provide written word choice exercises
Among the major outcomes, you should expect from your consultation are strong oral and written skills that you will develop which proves to your potential customers or employer that you know how to express yourself effectively via e-mail, Skype, phone or a one-on-one communiqu
é
in your office.
After considering the questions below and you feel that you and I would be a good "fit," I shall use an assessment tool that will help me determine your English language skills and give me a clear understanding of how I can meet your individual needs. Every session is one-on-one and customized to my clients' individual needs.
When you increase your ability to present yourself in this way, potential customers will become customers and actually "put the money on the table!"
To determine whether we will be a "good fit," consider these questions:
Are you willing to invest your time in improving your English language skills?
Are you committed to working with me for more than one meeting, not expecting a "quick fix"?
Are you willing to work with me for a minimum of

three

(

3

) months to a year?
If you answered "yes" to each of these questions, then, contact me