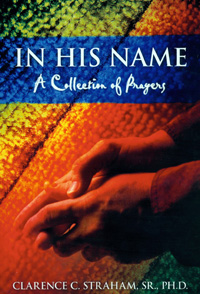 In His Name: A Collection of Prayers
by Clarence C. Straham, SR., Ph.D.
Book Information
Author: Clarence C. Straham, SR., Ph.D.
Publisher: Marketing New Authors
ISBN: 1-88974373-9: 978-188974373-8
No. of Pages: 280
Index: No
Table of Contents: No
Binding: Perfect bound, Soft Cover
Last Update: 2008
Volume Discounts: Yes, call to inquire
Shipping Time: 2-5 Days
Price: $19.95
About The Book
This book is collection of prayers that the author has recorded for the past twenty-five years. These prayers address the everyday issues facing mankind. The author finds a spiritual response that gives readers the motivation to continue in spite of the challenges. These prayers provide comfort. These prayers give praise to the Great Creator. There is poetry in these prayers and a melodic tone that make them spiritual songs. This work serves as a modern day Book of Psalms with Straham serving as a 21st century Psalmist, ready to face and inspire others to face the challenges of this ever-changing world.
About The Author
Who is Clarence C. Straham, Sr.? He is a husband, son, father, grandfather, brother, and friend. Clarence C. Straham was born in Oklahoma and raised in Arkansas. He served his country in the Air Force for four years. He earned his first degree at the University of Arkansas-Pine Bluff/AM&N. It was there that he met Bessie Lambert whom he married in 1968. Then, he and his bride came to Flint, MI, where they have resided ever since. He taught Math at Southwestern High School until retirement. During this time, Clarence Straham earned his Ph.D. in Education from the University of Michigan in April 1978. Dr. Straham is a life member of Alpha Phi Alpha Fraternity. And he has been a member and servant of Vernon Chapel A.M.E. for forty years.
A Prayer from In His Name:
O' Loving Father, we come today as
millions of this nation's workers are idle in
the market places with no means of
earning, their daily bread. Father, in
this nation, hard-working men and women
are becoming an unwanted resource. O'
Master, touch the house holders' hearts,
teach them that You have ordained that
mankind shall work for their daily bread.
Father, touch them that they are also
commanded to love thy neighbor as
thyself. Instill in their minds, Dear
Lord, that the stones which the builders
reject, the workers who are replaced,
discharged or forced in retirement "may
become the head cornerstone." O'
Mastery, help them to know that what
they do unto the least of Your children they
do unto You, Father, we need Your help for
we know that You are the God of All
Comfort, the Supreme Controller.
Therefore, we say unto the house holders
of America; the rulers of America.
These words of St. Matthew the
kingdom of God shall be taken from you,
and given to a nation bringing forth the
fruits thereof.
O' for the kingdom of heaven is like unto
a man that is a house holder which went
out early in the morning to hire, not to
discharge, not to replace laborers into his
vineyard.
In the Name of Jesus, the Christ, Amen.
January 17, 1982
Preview the Book