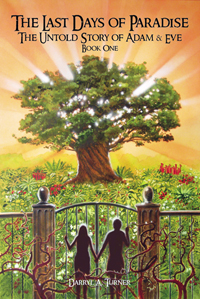 Last Days of Paradise and Beyond: The Untold Story of Adam and Eve—Book One
by Darryl A. Turner
Book Information:
Author: Darryl A. Turner
Publisher: Spirit Life Publications, L.L.C.
ISBN: 978-0-989230-38-4
No. of Pages: 398 pp.
Index: No
Table of Contents: Yes
Binding: Softcover
Last Update: 2013
Volume Discounts: Yes, call to inquire
Shipping Time: 2-5 Days
Price: $20.00
Ebook Price: $9.95
About The Book
This work takes the known accounts about Adam and Eve as told in the Bible and expands on what has not been shared. Readers know that the serpent manipulated Eve to bite of the forbidden fruit. However, what really occurred in Eve's mind to make her take that bite? What really pushed Adam to follow? What were his thought processes? And once he realized the wrong, how did he and Eve handle their wrong? And did Adam ever battle with the serpent? What were those days like after they were thrown out of the garden? This work answers these questions and provides realistic accounts of the journey, physically, mentally, emotionally, and spiritually, that Adam and Eve had to make as they forged a life for themselves and their children. This work tells the story that is not told in the Bible; it is a story that will keep readers intrigued with the turn of every page. And as the story unfolds, readers will see themselves in this detailed account of deception, survival, and self-discovery.
About The Author
Darryl A. Turner is a man fully committed to living a God-centered life. The spiritual principles taught in the Bible guide him. He aims to pursue and fulfill his God-given purpose in life. Besides being a devoted husband, father, and grandfather, he is committed to exploring his gift as a writer. He has written a book of inspirational poetry and several stage plays. Also, he has cultivated his love for the arts as a composer of music, musician, and performer. Darryl A. Turner has spoken of himself as being "ever optimistic and ever hopeful," accepting new challenges and embracing them as "opportunities to love, to learn, and to grow."
Preview the Book