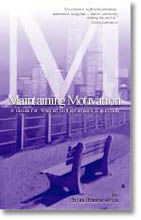 Maintaining Motivation: A Guide for Women Entrepreneurs, Especially
by Christa Chambers-Price
Book Information
Author: Christa Chambers-Price
Publisher: Robbie Dean Press
ISBN: 1-88974314-3
No. of Pages: 104
Index: Yes
Table of Contents: Yes
Binding: Perfect
Last Update: 2000
Volume Discounts: Yes, call to inquire
Shipping Time: 2-5 Days
Price: $14.95
About The Book
Starting a business is a challenge but remaining motivated to run one is completely different. This book offers a real life and an honest account of one entrepreneur's journey.
Table of Contents
Chapter 1
Leaving the Safety Net
Chapter 2
You Can't Be Everything To Everybody
Success Story #1
Chapter 3
Isolation—Real and Imagined
Chapter 4
Hurry Up and Wait/Success is Coming—Right?
Success Story #2
Chapter 5
Remaining Optimistic in the Face of Uncertainty
Success Story #3
Chapter 6
Why Especially for Women?
Maintaining Motivation Survival Kit
About The Author
Ms. Christa Chambers-Price has been president of The Price Design Group, LLC since 1997. She is the mother of two little girls and is currently striving to create and maintain balance in her life.
Preview the Book