THE MANA MOMENT AUTHORS' PODCASTS
ROBBIE DEAN PRESS and MARKETINGNEWAUTHORS.COM (MANA) are proud to present works showcased by our authors via podcast. The works will be featured for a month on this site. This is our way of allowing visitors to our page to experience the written works by authors whose works are on the RDP and MANA websites.
If you are a RDP or MANA author and would like to have your work presented via podcast at no cost to you, contact MANA. If you are not a RPD or MANA author and would like to feature your work on this site, contact MANA for details at 734-975-0028 or via email at MarketingNewAuthors.com
Click on the title of the podcast to find out more about the book.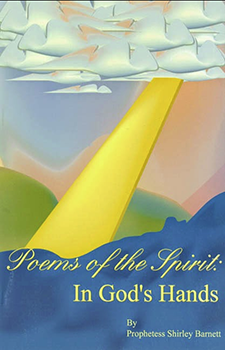 POEMS OF THE SPIRIT: IN GOD'S HANDS by PROPHETESS SHIRLEY BARNETT
This book is made up of a collection of poems on various aspects of life. The listener does not have to be of any particular religion to appreciate these works because they speak to the spirit of all listeners. The messages help the body get through the challenges of daily life.