The MANA way of celebrating Mother's Day. You read card after card and not find the wording that really applies to your Mom. You love to give flowers, but they have a short life. Can anyone really express your feelings about the woman who has been a mother to you? MarketingNewAuthors.com (MANA) is offering a unique alternative: The MANA Way of Celebrating Mother's Day
MANA's motto is the following: MANA—More Than Just A Self-Publishing Company. For this upcoming Mother's Day, again, MANA lives its motto.
MANA offers you the opportunity to submit your own poem of 250 words or less celebrating your mom or anyone who has been a mom to you or to others:
*Your poem of sincerity will appear on the MANA website on Sunday, May 9, 2021 to May 31, 2021.
* If you want you can attach a jpeg of this special mom.
*To make sure that she has this gift for years to come, MANA will send your poem to this special mom's e-mail or home address.
*The 1st 100 submissions will yield a charm to the writer of the poem for him/her to give to that special mom. It can be a part of a necklace or on a bracelet.
Those of us whose moms have passed and want to honor them, this is a key opportunity. MarketingNewAuthors.com can give you the opportunity to share your words of honor this upcoming Mother's Day, 2021.
With your own words of poetry (one word up to two hundred fifty), she will be honored on the MANA website. Still, you may send a photo. And be sure to share the date of her passing.
Please submit your poem here: info@marketingnewauthors.com
And the deadline for submission is May 1st, 2021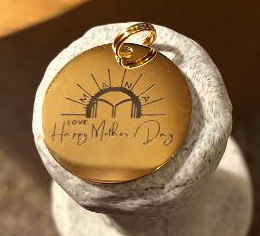 And, yes, there are some moms who are in very precarious and dangerous situations; thus, MANA will donate a percentage of profits from sales from this offer to FORGOTTEN HARVEST and Safe House of Washtenaw County (MI).
Cost: Only $19.95
Mom's Submission Deadline