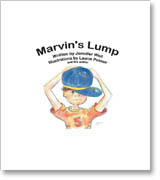 Marvin's Lump
by Jennifer Weil
Book Information
Author: Jennifer Weil
Publisher: Robbie Dean Press
Illustrators: Laurie Palmer and Jennifer Weil
ISBN: 1-889743-47-X
No. of Pages: 32
Index: No
Table of Contents: No
Binding: Hardcover
Last Update: New Publication
Volume Discounts: Yes, call to inquire
Shipping Time: 2-5 Days
Price: $15.95
About The Book
This is a book for five to nine year-olds. It addresses their fears and helps them see how to overcome them. And it manages to help children by using rhyme; it is somewhat like an illustrated poem for children. As one teacher who read a manuscript of the work says: " The rhythm and rhyme give it a familiar "Dr. Seuss" feeling. It treats an important issue for children in a way that is appropriate for children and easy for them to understand. Outstanding!"
Ms. Brown continues:
It makes an important point without sounding too preachy or teachy, which isn't always easy to do…It is good for prediction, too. I found myself wondering what the big lump was going to turn out to be ( I thought it was fear, which I guess was close). I will see if my kids will guess it. I think it will also lend itself well to further discussion "lumps" each of us carries around with us?
Third Grade Teacher
The reaction from her students?
"It was really cute; I liked it."
Kaylee, age 8
"The book is excellent."
Jalen, age 9
"I think she will become a really good author."
John, age 8
Now, John is a good predictor of success. He just did not know it. The author has written several works; however, it is this one that she is focusing mainly for children to help them cope with a real issue for children.
About The Author
Jennifer Weil writes in Michigan and Costa Rica. Her published work includes poetry, plays, short stories, ghost-written material, and children's books. She is now working on publishing her novels. A union actress with film, television, and numerous theatre credits, she is also the founding producer/writer/director of Acts of God®, a church-based performance group that presents accessible interpretations of scripture, often offbeat and sometimes challenging. Ms. Weil enjoys drawing, painting, swimming, and making greeting cards. Born and raised in California, she now feels at home in many places.
About The Artist
Laurie Palmer is a Sonoma County artist whose work is in private collections. Originally from Placerville, California, Laurie studied art at the University of California, Davis, and then received her secondary teaching credential from U. C., Berkeley. An acclaimed textile and mixed media artist, she combines paint and recycled materials to explore her wild, funny, and interior self. Ms. Palmer is also a Feldenkrais® practitioner and teaches workshops using movement and art expression. She and her husband live in Santa Rosa, California. This is her first book.
Preview the Book