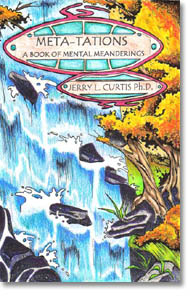 Meta-tations: A Book of Mental Meanderings
by Jerry L. Curtis, Ph.D.
Book Information
Author: Jerry L. Curtis, Ph.D.
Publisher: Robbie Dean Press
ISBN: 1-889743-41-0
No. of Pages: 90
Index: No
Table of Contents: Yes
Binding: Perfect bound–soft cover
Last Update: 2005
Volume Discounts: Yes, call to inquire
Shipping Time: 2-5 Days
Price: $14.95
About The Book
Meta-tations contains over fifty poems that share reflections about art, the earth, love, and humor, to name a few of the themes that are carried through the poetry. This is a book for teachers who wish to guide their students in realizing and experiencing and implementing their creativity via language. This book is for any individual who has had a thought and wondered if, indeed, if she or he is the only one to see life in the same way.
"The style of these Meta-tations is as simple as the flow of thought itself. The readers will realize, as they thumb through this collection of aphorism, that many of them have passed through their own consciousness at some remote point in time. What follows, then, is an expression of ideas and emotions as much yours as mine. If they make you smile, my ambitions will be fulfilled."
–Jerry L. Curtis, Ph.D.
Sample Poems
Moving from Bar To Bar
Thirty-two bars
should be enough
to intoxicate
any music lover
The Stormy Petrel
I would like to be
like the wind.
When it passes
Nature quivers
then regains its poise
Leaves shudder
then stay still
Birds stop their wings
and soar
on its hidden momentum
It comes
All is touched
Then it is gone
The Silent Language
The Oriental silence
has
so much to say
About The Author
Dr. Curtis has devoted his career to helping students appreciate language and literature. His area of expertise is the understanding of the French novel and theatre. He also has studied Italian literature and composition. His understanding of the literature, culture, and history of the French and Italians has afforded him a unique insight in the development of people of different cultures. He has a unique perspective on life. He demonstrates this in his work with his poetry. Currently, he is an Associate Professor of French and Italian at The Ohio State University
–Newark Campus.
Preview the Book