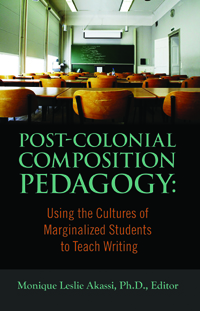 Post-Colonial Composition Pedagogy: Using the Cultures of Marginalized Students to Teach Writing
Edited by Monique Leslie Akassi, Ph.D.
Book Information:
Author: Monique Leslie Akassi, Ph.D.
Cover Design: Nate Meyers of Wilhelm Design Co.
Publisher: Robbie Dean Press
ISBN: 1-889743-91-7; 978-188974391-2
No. of Pages: 308
Index: No
Table of Contents: Yes
Binding: Perfect Bound, Soft Cover
Last Update: 2011
Volume Discounts: Yes, call to inquire
Shipping Time: 2-5 Days
Special Donation: Yes, 25 or more books ordered, RDP donates a percentage of the RDP profit of the order to the school, college, organization, or charity of choice of the individual who has initiated the order.
Price: $29.95
About The Book
This is a ground-breaking work that addresses and challenges every teacher of English composition who is committed to preventing a cultural underclass of writers of the English language. It is a collection of essays. Fourteen scholars, including the author, from different academic institutions, share research that has helped them shape their pedagogy and methodology regarding the teaching of students, which is a significant population, whose first language is not the Standard English dialect.
This work looks at the process methodology and the traditional methodology. It shows how they can be combined to serve all students effectively. No other work, as of this posting, has put forth such a comprehensive and scholarly discussion. Sometimes, when people see the words "marginalized students," they only think of racial minority students. However, as one reads this work, any intelligent reader will see that these words and the content applies to the many Caucasian students who are not a part of the "culture of power." They, too, are marginalized students. Any academician, high school or college level, who is serious about wanting to improve every one of his or her students' writing skills so that they can love to write and benefit personally, socially, and economically from the development of solid writing skills should and must read this work!
About The Author
Monique Leslie Akassi is an Assistant Professor of English at Virginia Union University. Her academic interests include composition pedagogy, rhetorical criticism, issues in American education, and her recent coined theory, post-colonial composition and praxis. She has been published both nationally and internationally. She is the author of Neo Hybrid Pedagogy in Post Colonialism Composition: An Investigation On Writing Portfolios For African American Students, just one of her several authored works.
She has assembled a fine list of academicians who have contributed their work in this collection of essays:
Paula D. Ashe, full-time English Lecturer, Ivy Tech Community College, Fort Wayne, IN
Patrick Brunson, Ph.D., Professor of History, Morgan State University, Baltimore, MD
Kimberly A. Collins, Lecture in the Department of English of Morgan State University, Baltimore, MD
Carrza DuBose, Lecturer in the Dept. of English, Morgan State University, Baltimore, MD
Kami Fletcher, Lecturer in the Department of History, Baltimore County Community College, Baltimore, MD
Ashley Hall, Ph.D., Professor of Native American Studies in the Departments of Native American Studies at the University of California-Davis, Davis, CA and Sonoma State University, Rohnert Park, CA
Milford A. Jeremiah, Ph.D., Professor of English in the Department of English and Language Arts, Morgan State University, Baltimore, MD
Kathryn E. Linder, Ph.D., Associate Director at the Center for Teaching Excellence at Suffolk University, Boston, MA
Kendra L. Mitchell, Assistant Director of the Reading/Writing Center and Teaching Assistant, Florida State University, Tallahassee, FL
Paul Mukundi, Ph.D., Professor of English, Morgan State University, Baltimore, MD
Myron Strong, Lecturer in the Department of Sociology, Baltimore City Community College and the Community College of Baltimore County, Baltimore, MD
Dabian T. Witherspoon, full-time Lecturer in the Department of English and Language Arts, Morgan State University, Baltimore, MD
Lixin Xiao, Ph.D., Professor of English, Tianjin Polytechnic University, P.R. China
Reviews
"Post-Colonial Composition Pedagogy is an important reminder of the powerful hand of education in molding society. This book is an intelligent treatise illuminating ways to think and act on implementing positive effects; it provides a significant examination of how we can be effective agents of social change."

—CoCo Harris, Founding Editor, Telling Our Stories Press
"The greatest civil rights issue for this decade is language arts. Educators must empower African students in the field of writing. We must hear their voice and encourage them in the spirit of Africentricity to be subjects not objects. This excellent book provides the tools for educators to empower African students to reach their full writing potential."

—Dr. Jawanza Kunjufu, author of Black Students: Middle Class Students
Preview the Book