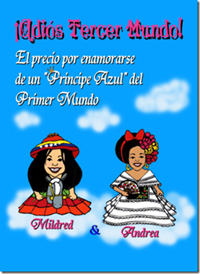 Adiós Tercer Mundo
by Andrea Viveros and Mildred Troconis
Book Information
Author: Andrea Viveros and Mildred Troconis
Publisher: Mayra Publications
ISBN: 978-90-79680-23-8
No. of Pages: 143
Index: No
Table of Contents: yes
Binding: Perfect bound (soft cover)
Last Update: 2011
Volume Discounts: Yes, call to inquire
Shipping Time: 2-5 days
Price $15.95
Price: $15.95
About The Book
This book is only in Spanish.
Este libro es un compendio de la conocida serie de videos de Youtube "Cultura Holandesa" de Andrea Viveros y Mildred Troconis.
Aunque las escritoras de este libro relatan entre otras, sus experiencias de adaptación en Holanda, estas vivencias pueden relacionarse con el síndrome del extranjero en el primer mundo.
Holanda es uno de los países más ricos del planeta. Su economía es la más fuerte y mejor estructurada de la Comunidad Europea. Sus leyes sociales han sido tomadas de ejemplo sin éxito en otras naciones y son la envidia de sus propios países colegas de la Unión Europea y Estados Unidos.
Debido a esto muchos extranjeros que vienen en busca de fortuna ó dinero fácil han invadido el país. Todo con el afán de exprimir estas leyes sociales únicas en el mundo.
Este libro es el fruto de una mixtura de sueños y quimeras, amor y desamor, ilusiones y decepciones de dos valientes mujeres que enfrentaron todo por amor. Es una obra crítica y sarcástica de las sociedades desarrolladas, vista con el inigualable y único sentido del humor que caracteriza al latinoamericano, cuyo temperamento alegre, extrovertido y optimista crean un verdadero choque cultural con las sociedades embrutecidas por el poder y el desarrollo.
About the Book (An English-Translated Synopsis)
The English translation for the title is Goodbye to the Third World. It is a book especially for Latinas interested in emigrating to Holland. Its subtitle "El precio por enamorarse de un Principe Azul del Primer Mundo (The Price of Becoming Enamored with the Blue Principle of the First World) suggests some of the challenges for Latinas who attempt to make this transition. This work reviews the customs and laws of Holland while considering the more mundane subjects of weather, shopping, going on vacation, for example. And humor is a very pleasant part of this work.
About The Author
Andrea Viveros
Nací en la ciudad de Xalapa, Veracruz. México. Mis estudios fueron culminados y realizados dentro de la misma ciudad. Soy Licenciada en Educación Primaria. La experiencia más grande es haber dado clases por dieciséis años y conocer todo acerca del mundo de los niños pudiendo reír con ellos y aprender de ellos también. practicado algunos deportes como el tae-bo, karate, aerobics, pesas, atletismo (carrera), y en algunas actividades al aire libre como el Rappelt. En algún momento pertenecí a un ballet de danza. Estuve en muchas cosas porque realmente me aburría muy rápido de ellas y tenía que cambiar cada seis meses.
Mildred Traconis
Nací en Caracas, Venezuela el 17 de julio de 1978. Actualmente resido en los Países Bajos. Crecí con mis abuelos (Lucía y Valentín), mi madre (Soledad) y 2 hermanas (Arlette y Geraldine). En mi adolescencia realice múltiples trabajos con las comunidades más necesitadas a lo largo de Venezuela. Siempre me emocionó la alegría y el amor que sus pobladores expresaban en sus rostros a pesar de lo poco (material) que tenían. Con ellos aprendí que el ser aut uno de los tesoros más grandes que el ser humano puede tener.
About the Author (An English-Translated Synopsis)
Andrea Viveros and Mildred Troconis relate their own experiences of adapting to life in Holland after moving to that country from Latin cultures. Having had this experience themselves, Viveros and Troconis clearly discuss and offer advice as well as helpful tips about understanding and adjusting to what the authors identify as "The Outside Syndrome in the First World."
The authors speak with understanding and often humor about their cultural and linguistic immersion in what they identify as one of the richest countries in the European Community. Both authors present a thorough and insightful look at one European culture both to share their experiences and to prepare other women of similar backgrounds to their own for a change that could alter their lives.