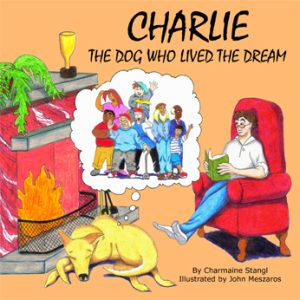 .
Charlie: The Dog Who Lived the Dream
by Charmaine Stangl
Author: Charmaine Stangl
Publisher: MarketingNewAuthors.com
ISBN: 1-889743-75-5
No. of Pages: 29
Index: No
Table of Contents: No
Binding: Perfect bound, soft cover
Last Update: 2008
Volume Discounts: Yes, call to inquire
Shipping Time: 2-5 Days
Price : $9.95
About the Book
This book is the culmination of years of thought. The author wanted to write more than just a boy / dog story. She wanted her story to give children something really to think about. However, she did not want to be "preachy." She has accomplished her goal.  It is a beautifully-illustrated work that has Charlie, a very special canine, show how children should treat people of all ages.
About the Author
Charmaine Stangl is a retired English teacher. She taught literature and writing for twenty-five years in public high schools, community college, and two universities. She has been telling stories to her children and grandchildren for over forty years, but this her first story to be published. She and her husband live in Tecumseh, Michigan.
Preview the Book
Preview the Book