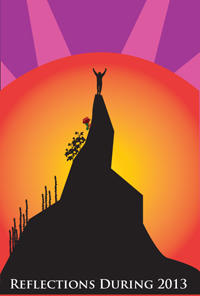 Reflections During 2013
Edited by MarketingNewAuthors.com
Book Information:
Editor: Staff of MarketingNewAuthors.com
Publisher: MarketingNewAuthors.com
ISBN: 978-0-9892303-7-7
No. of Pages: 112 pp.
Index: No
Table of Contents: Yes
Binding: Perfect Bound
Last Update: 2013
Volume Discounts: Yes, call to inquire
Shipping Time: 2-5 Days
Price: $4.95
About The Book
Reflections During 2013 is a compilation of short stories and poems. Most of the works are stories or poems submitted to the 2013 MANA Winter Writers' Contest. MANA wants to encourage new writers to share their work in different venues with a wide range of readers.
MANA chose the best short story writer and poet from those works submitted. MANA designated Jeff Ferris as the writer who submitted the best short story. Also, MANA designated Tiffany Purnell as the poet who submitted the best poem. Besides a nominal monetary award, MANA has charged one of its artists to design a cover that would symbolize the messages conveyed in Ferris's short story, "Two Men Named Jack," and Purnell's poem, "Exotic Chocolate Flower."
Although this contest took place in Winter 2013, MANA wanted to share the works at the most appropriate time. The MANA Staff felt that the end of 2013 would be a good time. This collection of works so rightly ends the year on a very pleasant note. Furthermore, half of the profit of sales will go the MANA 2013 designated charity, the ALS Association, an organization committed to supporting families and individuals coping with Lou Gehrig's disease. And so, MANA proudly presents to you this e-book, Reflections During 2013.
Preview the Book