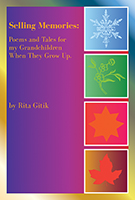 Book Information:
Author: Rita Gitik (AKA: Rita Juliana Scott)
Publisher: MarketingNewAuthors.com
ISBN: ISBN: 978-0-9982493-9-1
No. of Pages: 88
Index: Yes
Binding: E-Book and Perfect Bound
Last Update: 2017
Volume Discounts: Yes, call to inquire
Shipping Time: 24 hours for E-Book and 2-5 Days for Printed Copy
Price for Printed Copy: $14.95
Price for E-Book: $7.95
Link to Download e-Book in various formats, (NOTE: requires valid password, sent via email successful purchase)
About the Book
"Oh, Grandmother, you do not understand." Selling Memories: Poems and Tales for my Grandchildren When They Grow Up dispels that belief. Author Gitik provides poems and tales that touch every facet of life. Every tale and poem provide a special pathos that will touch the hearts and souls of many grandchildren who may think their grandmothers do not understand their many experiences with life. This is a work that many grands can share with their grandchildren "…when they grow up."
About the Author
Dr. Rita Gitik is a writer that takes her readers on a journey that will intrigue and leave one with a quiet peace. She is an author of numerous professional articles. This is her second book. Her first is The Medici Heirs. It is about an innocent individual who triumphs over the unjust commitment of her in a psychiatric hospital. It is a work that gives readers strength to overcome their own obstacles. With this 2nd publication, Gitik develops each work to carry a strong message that demonstrates this writer's exquisite skill as a writer of prose and poetry.
Preview The Book: