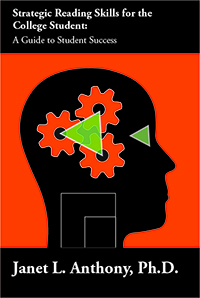 Book Information:
Author: Janet L. Anthony, Ph.D.
Publisher: Robbie Dean Press, LLC
ISBN: 978-0-9916017-0-7
No. of Pages: 193
Index: No
Table of Contents: Yes
Binding: Coil
Last Update: 2014
Volume Discounts: Yes, call to inquire
Shipping Time: 2-5 Days
Price: $24.95
About the Book
Originally, this work was a course pack. However, with the encouragements of colleagues and students, the author developed this work into a text. This publication demonstrates the close relationship between the ability to read critically and analytically and implement what has been learned in written work. This text provides explicit lesson plans for reading instructors. Also, the content allows for instructors to combine what is in the text with their own pedagogy. And for students, this work provides clear guidance for students to implement comprehended work and demonstrate the understanding in different writing situations, general narrative to research.
About The Author
Janet Anthony has 16 years of teaching experience with 8 of those years teaching developmental reading at a community college. She is committed to helping students achieve their college goals. To assist students in the accomplishment of their college goals, Dr. Anthony fosters a reading environment that supports extensive research on the culturally responsive teaching practice which enables students to be empowered and more successful learners. She has witnessed the satisfaction and growth that comes from this style of pedagogy and is especially excited to share some of her teaching methodologies in the first edition of Strategic Reading Skills for the College Student: A Guide To Success. She is eager to hear from colleagues and students across the country about their reading experiences with this new reading manual.
Preview this book: