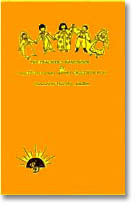 The Teacher's Handbook of Multicultural Games Children Play
by Shannon Murphy, ed.
Book Information
Author: Shannon Murphy, ed.
Publisher: Robbie Dean Press
ISBN: 0-9630608-9-9
No. of Pages: 148
Index: No
Table of Contents: Yes
Binding: Perfect Bound
Last Update: 1996
Volume Discounts: Yes, call to inquire
Shipping Time: 2-5 Days
Price: $21.00
About The Book
Contents:
*Detailed Lesson Plans
*Illustrations
*Over Forty Games from Various Countries Represented
For Whom:
*ESL teachers
*Bilingual teachers
*Teachers interested in promoting multicultural understanding
About The Author
Ms. Murphy earned her Master's Degree from Wayne State University. This book is an outgrowth of a class project. Her interest in different cultures led her to looking at the various games played by children around the world. Presently, she is an elementary school teacher.
Preview the Book